Congratulations to John and Rives on their induction into the 2020 class of the CAAR Professional Honor Society!
From the Charlottesville Area Association of REALTORS
CAAR announced the induction of 50 REALTORS® into the 2020 class of the CAAR Professional Honor Society during a virtual General Membership Meeting on Thursday, March 11th. 
This prestigious accolade has been a long-standing award program at the state level and was instituted by CAAR in 1996 to recognize standards of industry excellence. A total of 194 different REALTORS® have reached this pinnacle achievement in the local program's history. The 2020 class marks the 25th year for six CAAR members and the first year for one member.
The selection process for each year relies on four core areas: association involvement, professional development, leadership and volunteer participation, and the success in either production of sales or ability as a managing Broker.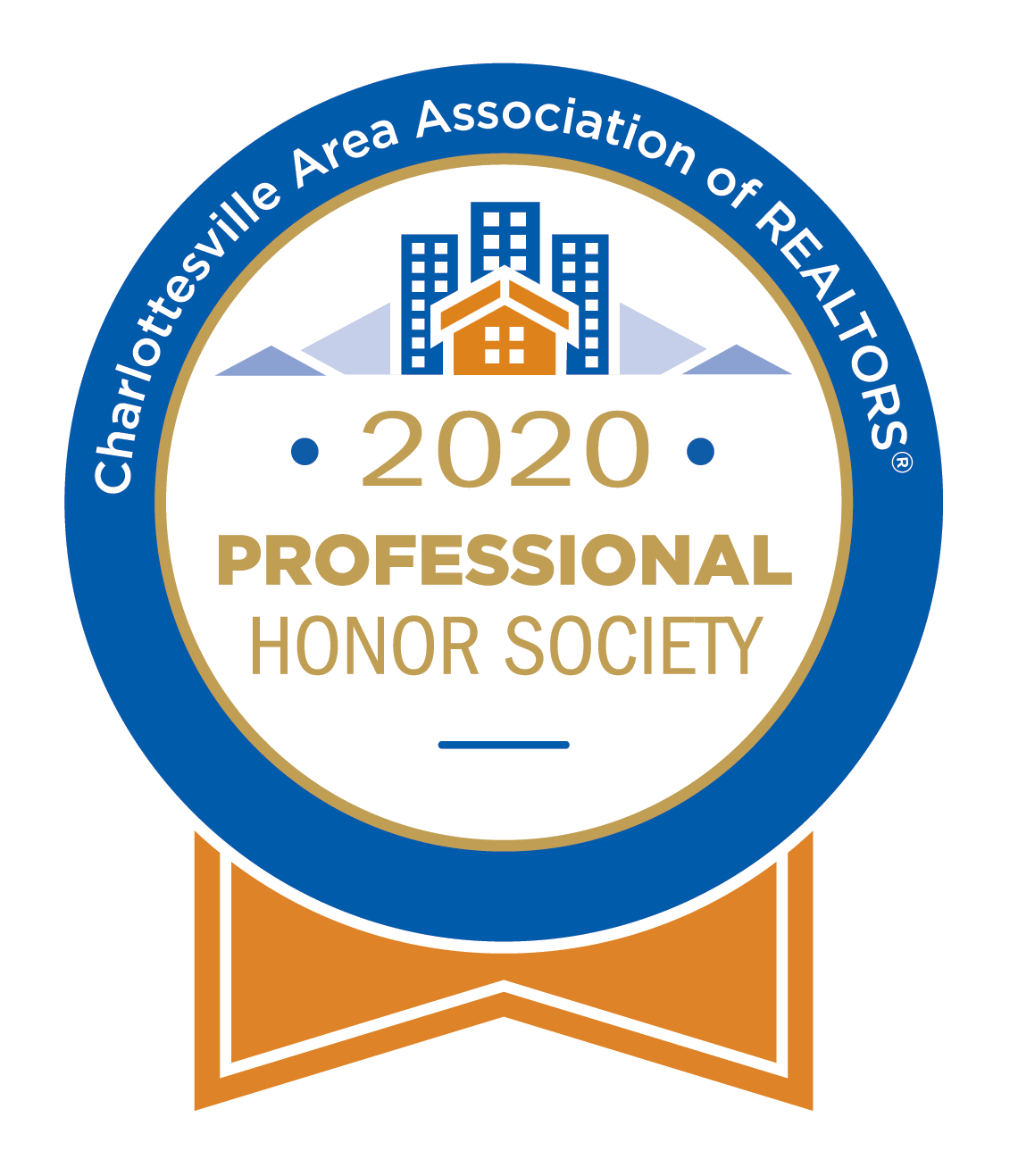 1 - 4 Years | First Year*
Quinton Beckham
Emily Dooley
John Farmer*
Erin Garcia
Lisa Herndon
Errin Kardos-Searcy
Barbara Kelley
Katelyn Mancini
Sarah Monceaux
Brentney Moore
Kristin Sorokti
Amanda Spigone
Wes Sury
Josh White
6 – 9 Years
Rachel Burns
Anne Burroughs
Debbie Cash
Dan Conquest
Tele Jenifer
Mary Katherine King
Georgia Lindsey
Jessica Russo
Keith Smith
Yonna Smith
Kristin Streed
Tom Woolfolk
10 Years
Pam Dent
11 – 14 Years
Kelly Ceppa
Michael Guthrie
Denise Ramey
Sasha Tripp
John Updike

16 – 19 Years
Pat Crabtree
James Dickerson
Gaby Hall
Kathy Markwood
Donna Patton
Sue Plaskon
Greg Slater
20 Years
Sabrina Thompson
21 – 24 Years
Rives Bailey
Anita Dunbar
Karen Kehoe
Pat Sury
25 Years
Kim Armstrong
Tim Carson
Percy Montague, IV.
Trish Owens
Pat Widhalm
Arleen Yobs
The 2020 Professional Honor Society & Awards Meeting was sponsored by Farm Credit of the Virginias.